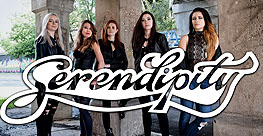 Original & Cover
Pop
Rock
Dance
80's
70's
Current
Original & Cover
Summer Festivals
Clubs
Teen Functions
College
Corporate
Unplugged
Bio
Poster 11 x 17
Stage Plot / Input List
Serendipity is that unexpected surprise that makes you feel
good all day.
Serendipity is that happy accident you tell your friends about.
Serendipity is a stroke of good fortune that you can't wait to experience again.
This band uses a cool combo of euphonic vocal tones with a power pop musical kick to take audiences on amazingly cool rides through current and time-tested tunes.
"People raved" – Sandy D., EGV
"Excellent Band," – Richie from 7th heaven
"I got to hear them again" – Shirley King
"You guys totally ROCKED it tonight!" – Kimberli M.
They've thrilled large crowds and worked with established icons of the industry and are a sensation that is in the process of breaking out right now.
Youth is surely served with these ladies, but how old they are isn't important. How good they are is!
• Seen on WGN TV
• Heard on Star 96.7 FM
Serendipity's song "Something About Tonight" is the winner of the Arlington Heights Chamber of Commerce's first Mane Event and Taste of Arlington Heights video music contest. The chamber conducted a search for an original, fun song about summer to feature in its promotional video. Serendipity will perform the winning song during the Taste of Arlington